Case study: Migrateful
Building Relationships Through Cooking to Help Refugees Thrive
Refugees escape terrible circumstances, and the society they enter, whether the UK or elsewhere, is probably unfamiliar, complex and often hostile. Refugees are also likely to arrive without strong family, friendship or other support networks. It seems clear that meaningful relationships are vital, even a literal lifeline, for refugees. This is demonstrated in academic research, such as that produced at the
University of Birmingham
and
City University
.
Migrateful
is a London-based organisation supporting refugees, asylum seekers and vulnerable migrants to run cookery classes as a way to learn employment skills, improve their English, build confidence and grow their social networks.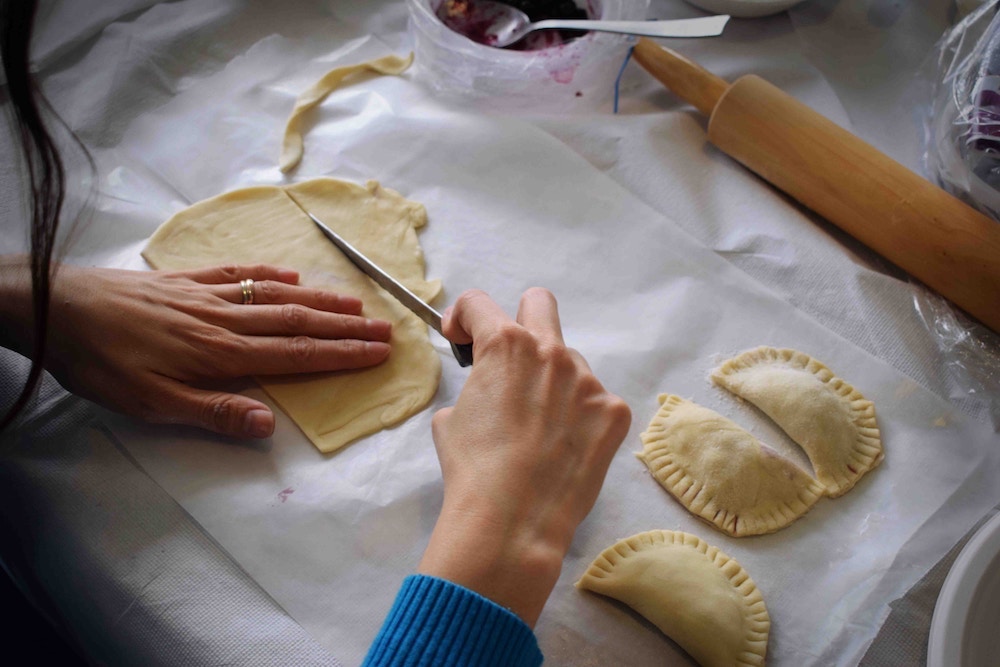 How does Migrateful work?
Migrateful facilitates cookery classes led by refugees and vulnerable migrants. The idea grew from discussions with a group of refugee women at a Time Bank project in Tower Hamlets, London. Facing linguistic and cultural barriers, as well as difficulty having their qualifications recognised, these women identified cooking as a skill they could share. Migrateful has since worked with 19 chefs across 50 training sessions and 200 cookery classes, reaching 2,000 participants.
Migrateful trains chefs through weekly workshops, helping them evolve from passionate home cooks into confident cookery-class leaders. Sessions begin with English exercises, and chefs take turns leading classes for each other before sharing a meal, working as a group.
When chefs feel ready, they graduate to leading classes for paying customers.
They lead participants in preparing at least three dishes, which are then shared as a group. The classes double as an opportunity for cross-cultural exchange, both through general conversation and a specific chance for the chef to share their story.
Migrateful helps address a range of interlinked barriers refugees face in building a life in the UK:
Learning English
Securing employment
Facing public perceptions of fear or distrust
(Re)developing confidence and positive self-esteem
Building supportive social networks
The relationships chefs develop with each other, customers and Migrateful as an organisation are critical to Migrateful's impact.
What impact is Migrateful having?
Connections
Migrateful sessions provide a social network for chefs, which is particularly valued by those who have arrived in the UK alone. "Migrateful gives us the feeling of being part of a family, which we've been missing while living in the UK," says one chef. This social connection grounds the rest of Migrateful's impact.
Confidence
Leading sessions, speaking publicly, sharing skills and making new friends helps bolster refugees' confidence and self-esteem, which is liable to be threatened amidst the uncertainty and hostility of forced migration. Many Migrateful chefs talk of the benefits of being given a platform to speak and be listened to. "Teaching my first Migrateful cookery class, I felt I was passing the love of my country to others," says one chef.
Public perception
Research shows that contact with immigrants has a major positive impact on how people view immigration and immigrants. Migrateful helps realise this impact by bringing refugees together with other community members – 2,000 and counting.
Employment
50% of the 125,000 refugees living in the UK are unemployed, given the barriers outlined above. Migrateful classes gives refugees an income, and help develop time-keeping, organisational, culinary and food-hygiene skills to improve employability. Although full-time employment is not a realistic outcome for many Migrateful chefs, given legal restrictions and other barriers, some chefs have 'graduated' onto employment elsewhere.
Language skills
Interaction through Migrateful classes helps refugees improve their English skills.
What can we learn from Migrateful?
A few things that stand out to us about the way that Migrateful operates:
Good relationships are mutually beneficial and draw on the agency of both parties.
Refugees are disempowered in many ways. Migrateful shows that relationships founded on agency and trust are one route towards re-empowerment. It designs interactions that see refugees leading groups, teaching skills and sharing their stories. This agency is integral to a positive sense of self-identity. As one Migrateful chef explains: "It feels that in coming to this group we are not called a refugee or asylum seeker. We are called a person which means we get respect, love and care.''
Different relationships have different benefits
For example, relationships between refugees (such as during Migrateful training) are more likely to provide practical or emotional support than relationships between refugees and customers, which are more likely to focus on building confidence and a positive self-identity.
Support mechanisms, such as training, can help people to overcome barriers in developing relationships
Migrateful's training stage allows refugees to develop the culinary techniques, English skills and confidence to deliver cooking classes. They are still developing valuable relationships during training, whilst recognising that the benefits of different relationships – with customers – require certain prerequisites to be 'unlocked'.
What's next for Migrateful?
Migrateful's London programme continues to grow, but Migrateful is also expanding. The team is currently running a pilot programme in Kent, and is launching in Bristol in September.
Further reading
Migrateful's website outlines its

mission,

approach

and

impact. It also features powerful

chefs' stories.
Migrateful features in a Financial Times

profile

of organisations around the world using cooking to support refugees