On 28th March 2023, a group of us came together for The Relationships Project's first ever Book Club. Hosted by the wonderful Christine Frazer from her kitchen table in Gateshead, we gathered together to share thoughts and reflections on The Good Life by Marc Shulz and Robert J. Waldinger. Based on findings from the 80-year-long Harvard Study of Adult Development, this landmark book reveals the simple yet often overlooked truth: the stronger our relationships, the more likely we are to live happy, satisfying and overall healthier lives.
One of the key challenges we face, as Relationship-Centred Practitioners, is how to make a compelling case for the importance of investing in relationships to those who are sceptical. To convince our commissioners or managers that tending to relationships isn't just a 'frilly extra' or a 'nice to have', but absolutely fundamental to meeting the incredibly complex challenges of our time, often feels like an uphill battle. 
For this reason, we were really excited when we heard about The Good Life, which carefully weaves together a huge amount of data and personal stories to make the case that it is the quality of our relationships, not the amount of wealth or degree of fame, which underpins a happy, healthy life. It's something that many of us know intuitively, but the evidence for which can be hard to find and weave together into a compelling narrative. 
It may have taken hundreds of years, but in the area of human wellbeing, we are now approaching full circle. Scientific knowledge is finally catching up with the ancient wisdom that has survived the test of time
What else do good relationships enable? 
The book does an excellent job of evidencing the link between relationships, health, wellbeing and happiness, and the authors recognise that they do much more besides: 
Relationships are not just essential as stepping stones to other things, and they are not simply a functional route to health and happiness. They are an end in themselves. […] While we try as scientists to quantify their effect on us, relationships are full of rich and constantly shifting momentary experiences, and this is part of what make them lively antidots to the repetitions of material life
We'd love to see the evidence base being built out to explore how relationships help not only with individual wellbeing, but also with the other big challenges of our time. How can strong relationships help address the climate crisis? The cost of living crisis? Growing inequality? Political polarisation? And more 
What other relationships matter?
The Good Life argues that it's not the quantity of our relationships that matters, but the quality. As such, much of the study focuses on the impact of the nature of our most intimate relationships on our wellbeing. But what about other relationships – so-called 'weak ties'? 
We shared anecdotes about the smile from the friendly postman, the interactions in the market, the conversations in a queue. We talked about the need not just for good intimate relationships, but warm webs of relationships, where each one gives us something different but which, together, create the tapestry for a meaningful and happy life. 
How can we support one another's relational health?
Unlike some books of this sort, The Good Life seeks to go beyond diagnosis to offer some 'prescriptions'. Dotted throughout the pages are activities and exercises to help us all to reflect on the state of our relational health, and take practical steps to improve it. 
All of these exercises focus on us, as individuals, taking responsibility for improving our own relationships.
This left us wondering: how can we support one another to build strong and meaningful relationships? What are some collective tools for doing this important work? What's the role of

community

,

community weavers

, civic spaces, grassroots and voluntary sector organisations, community businesses,

local authorities

and more? 
What are the skills we need to support our relational health? How do we develop them?  
The book talks about the things we can do to nurture our relationships: send a text to the friend we haven't spoken to for a long time; ringfence time to dedicate to our nearest and dearest; opt for face-to-face wherever possible. But what are the skills that enable us to take these steps and build good relationships? How do we develop those skills? And what gets in the way? 
We'd love to see a follow on which explores relational health in the context of trauma, multiple disadvantage, neurodiversity and more. Are the same skills needed? What additional support is required? 
How do we profile all the brilliant relational work being done?  
Many answers to the above lie in the brilliant relational work that's already being done. How can we use the interest that The Good Life has garnered as a platform to celebrate all the brilliant – but hidden – relational work that's already being done? How can we use it to plant trees and reshape the soul of our systems, and our society?
How might this work become a tipping point towards a world built for and around good relationships? 
Phrases that stuck with us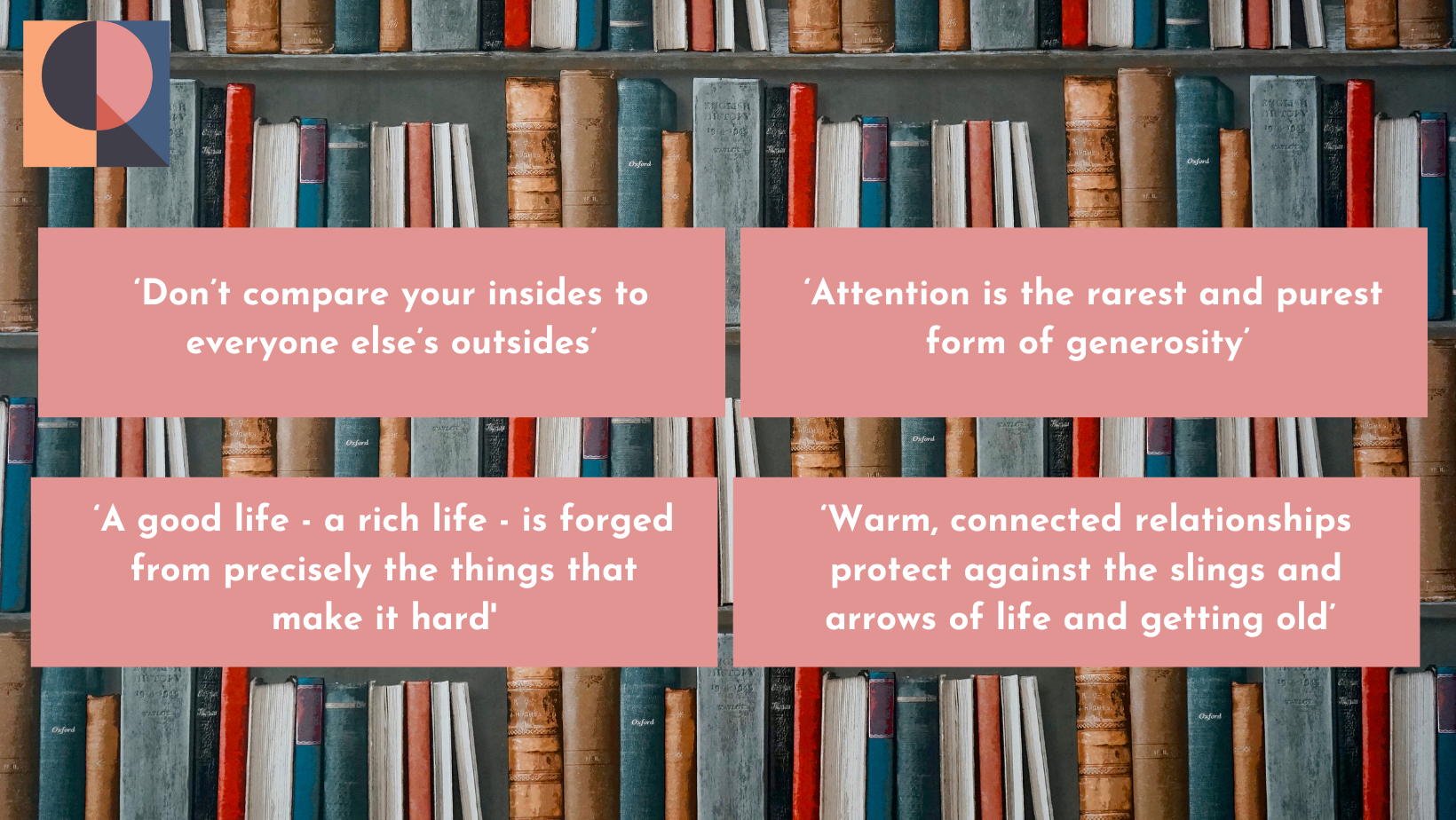 Recommended reads
Some of these are specifically about relationships, others tangentially. All come highly recommended by a member of the Book Club.
Join us!
If there's a book – or some other sort of content, such as a blog, podcast, documentary or film – you'd like to discuss with a group of warm, friendly Relationship-Centred Practitioners, we'd be delighted to help make it happen.