In our sixth Observatory Sighting, we explore the ways in which we've both come together and moved apart, and ask how we can do more of the former and less of the latter.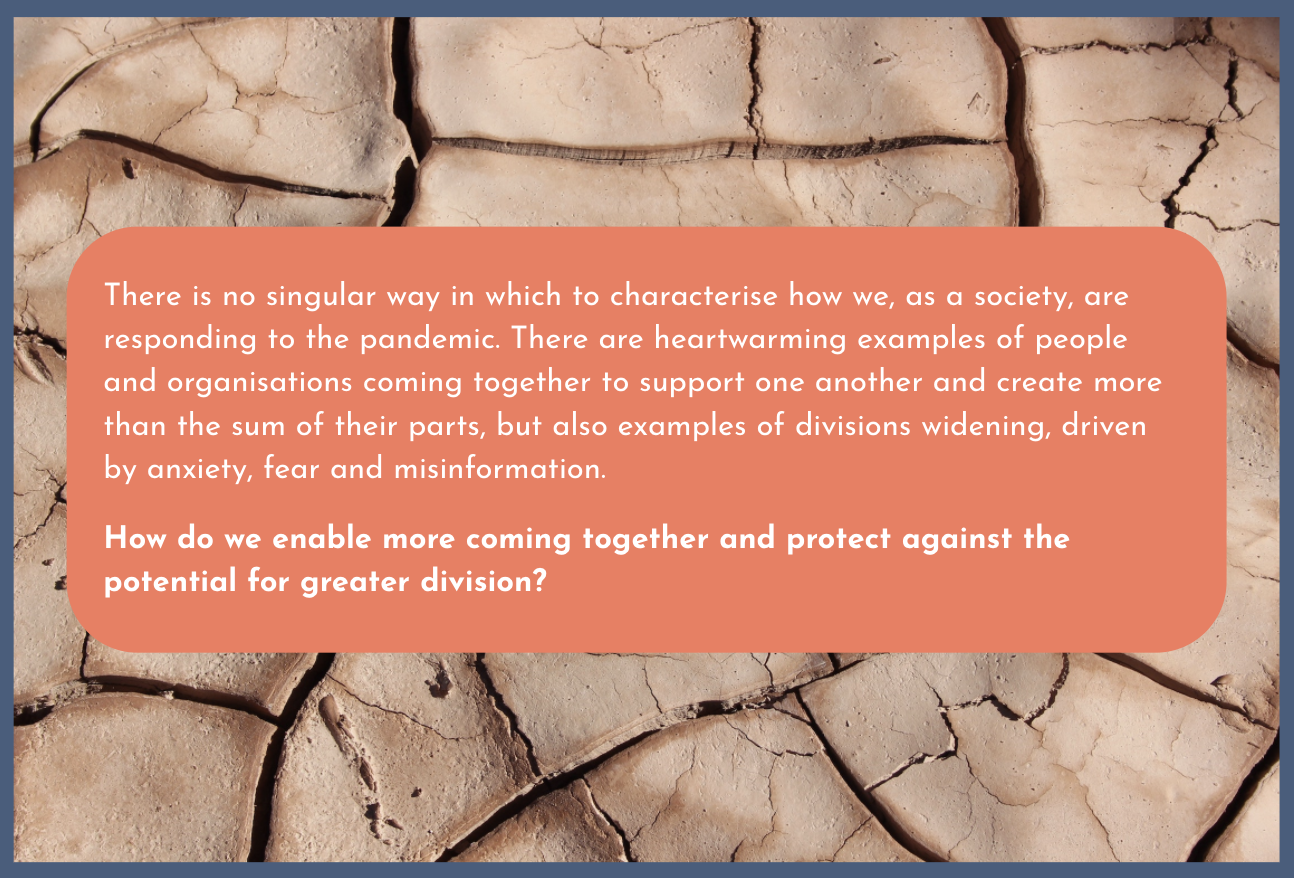 We have been looking at where communities are coming together across faiths, geographies and generations, where they are moving apart and where they are doing both at the same time. We will start with the coming together:
In one street they have been planning a street party for VE Day for many months before Covid. The Local Area Coordinator has been encouraging organisers to consider people in the street who are not usually included due to age, disability or nationality etc, and who often say that they don't feel part of things. The street party plans have continued and is now due to take place on people's drives, linking people together along the street. This new format has meant all families in the community have been encouraged to come out as it keeps the connection going physically along the street. It seems like in the crisis context that these differences don't seem to matter to people in that community so much anymore. Neighbours have been sharing with each other how to make bunting out of shopping bags.
Faith groups have been particularly active in many areas and sometimes reaching people they haven't reached before
She said it's a good time for people who are always lonely. She hasn't been able to get to the synagogue for a long time but now people from there have helped her sort out her phone and join some prayers and other groups on line. And they been giving her home cooked food and things. She said she's loving it! It's funny really. Other people tell me that there are more people involved with the synagogue now than there was before it all happened.
Inter-faith, as well as cross-sector, collaborations have been a particular hall mark of the crisis response.
BDCAN is a joint initiative set up by Barking & Dagenham Council & BD_Collective to respond to residents who are self-isolating but have no support. We quickly identified 9 Lead organisations each covering 2 or 3 wards – 4 VCS organisations and 5 faith organisations (4 Anglican churches & 1 mosque). Each Lead receives daily referrals from the central Council Call Centre and their team of staff/volunteers arranges food deliveries or medications pick up to residents within 24 hours.
It has been amazing to reflect how quickly we got systems in place. None of the Locality Leads had worked together previously, yet from the beginning there was a strong sense of cooperation, helpfulness and sharing resources. There were so many teething problems which made things unclear for Locality Leads, yet their patience & support was tangible to the central team.
At the same time the BDCAN initiative has been operating, across the borough, VCS & faith groups have been responding to wider needs. We brought together 67 partners on a Zoom call to meet & share with others. 17 food banks/providers have started to work together organically, sharing excess with one another & supporting with resourcing essential goods. Again the sense of sharing & collaboration between Muslims & Christians was very clear. It's early days to say if this is how things will continue, but as one who has been part of the community sector for over 20 years, I've never seen the level of partnership, collaboration & support that is currently in place. We are attempting to 'learn' as we go, so we can identify core elements that have made things work so smoothly. Maybe it's just special to the crisis – let's hope not.
However the positive stories are evolving against a backdrop of increasing tension and, at its most extreme, racism and hate crimes – Asian hate crimes alone have increased by 21% since the start of the crisis. As the Bank of England and others predict that unemployment will double by the end of the year, a drift towards polarisation and scapegoating is particularly alarming.
This shift in attitudes and behaviours isn't inevitable, even if the threat may be perceived to have originated from overseas: Social capital surveys in the US in the months following the 9/11 attack revealed that trust in people of other races actually went up – by 11 percent. (Putnam 2002).
Such has been the effects of disruption in recent weeks that in many communities, even within individual streets, there is both an increase in division and an increase in cohesion.
We are funding hundreds of emergency community responses across Northern Ireland, including in spaces and communities that are still contested. We have seen encouraging signs of communities working together across the traditional Unionist / Nationalist divides. However we're also aware of the potential for other groups in society to be stigmatised – for example in critical and poorly informed conversations about the social distancing of migrant workers queuing at the bus stop
Sociologists distinguish between "bonding capital" – the relationships that bind us to people like ourselves, and "bridging capital" – the relationships that connect different communities. At an institutional level we see an increase in both but at an individual level we are detecting a more turbulent picture. In some areas, it seems, the bonding is stronger but the bridges are crumbling. Is this what's happening in your community? Where are there effective efforts to build on both fronts and what can we learn from them?
The people of South Africa know more than most about bridging and bonding so we conclude with this hopeful story from a stranded Brit
We are in South Africa to visit family. Having arrived 2 months ago, on the day a State of Disaster was declared we haven't been able to see any of the family, nor do we know when we will get home. However we are safe and well.
One venture that has made us feel connected and useful is a sandwich making effort. Three times a week we make 130 jam and peanut butter sandwiches. The team in the block were making 1,300 a day and with more people joining in this has increased to 1,690. It is a collaborative effort: Shoprite bake the bread and sell it to us for 5 rand a loaf (22p), the loaves are delivered by volunteer drivers and distributed to the volunteers who make the sandwiches in their flats. We make sure they are returned to the lobby by 12.30. They are taken to Cape Town International Convention Centre who are providing space for food prep and storage. Bidvest provide cleaning services to help keep the space safe. From there the sandwiches and other meals are distributed daily to Soup Kitchens and feeding programmes. This is on behalf of a charity called Ladles of Love who make c30,000 sandwiches a day as well as many other meals, these are distributed to those who need it in collaboration with other charities. The need has increased dramatically since lockdown.
Last week the next door block joined in, inspired by the efforts of our block. We've just heard that the block across the road are also going to participate. Doing this has created a connection to others in the building, and now our neighbours and enables us to make a practical contribution from our home. It has become important to us, it's enjoyable and I think helps us stay calm in uncertain times.
Questions we've been asking ourselves
It's clear that there is no singular way in which to characterise or describe how we, as a society, are responding to the pandemic. There are heartwarming examples of people and organisations coming together to support one another and create more than the sum of their parts, but also examples of divisions widening, driven by anxiety, fear and misinformation.
How do we enable more coming together and protect against the potential for greater division?
Thanks to this week's contributors
The Observatory is a voluntary collaboration led by the Relationships Project. We are dependent on the eyes and ears of our observers and partner organisations and we need more.
The voices heard this week include Len Rosen, Nick Sinclair and the LAC Network, Linda Woolston, Andrew McCracken and Avril McIntyre