In this Observatory Sighting, we explore how trust is being recalibrated and the impact this is having on relationships both now and in the future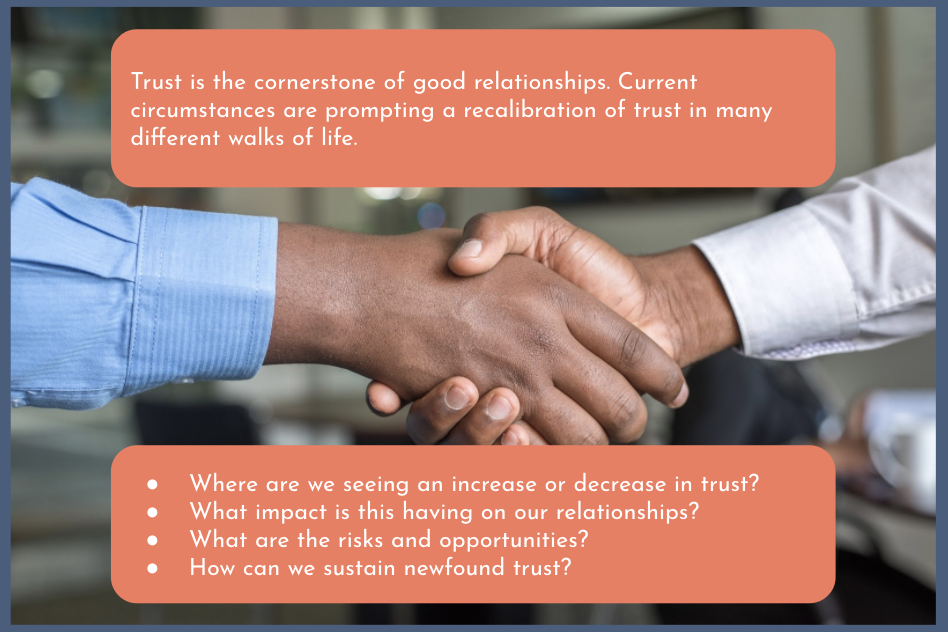 Over the last couple of weeks we have reported on what we see on the surface: Thousands of new community groups, new collaborations across the sectors, innovative uses of technology and social media etc. Some of this is exclusively emergency provision and wouldn't be appropriate beyond the crisis but sustaining just a small proportion into the longer term would significantly increase the readiness and resilience of our communities and the well being of some of the most disadvantaged.
However if we just attend to the activity on the surface we will reduce our vision of the future to a bunch of projects. We need to also understand the undercurrents – the shifting behaviours and attitudes that could prefigure more profound change. One of the most interesting undercurrents that we have observed so far concerns the shifting balance from rules to trust.
More than a million people
have now either joined the NHS volunteering scheme or volunteered to help local charities. These volunteers are checked and their work will be supervised although with a likely lighter touch than might have been applied at other times. Add to these numbers more than 4,300 new neighbourhood groups and factor in all the people who are either helping one another entirely independently or as part of a hyper local initiative way below the radar, and we begin to see both the scale of the community response and the impossibility of conventional regulation.
I've been getting her a few bits. She can't pay me now but she says that she will pay me back when she can. I don't really know her but I expect she will. She won't be going anywhere, will she
?
We are seeing a recalibration of risk and trust. Neighbours shopping and lending money to people they hardly know, doing things that would never be allowed in a Volunteer Manual.
Will this period result in a rebalancing or will we gradually revert to old behaviours?
I slipped a note through the door of a couple of my elderly neighbours offering to pop to the shops for them. One of them called me and said she was touched by the offer. "Are you the young couple who live opposite, my name is Greta?" I felt a bit embarrassed that we had never spoken to her properly before. She said it reminded her of how people came together during the war. After initially giving me money to take out for her, she said to me this morning that she doesn't know why she hasn't just given me her bank card . There are quite a few reasons I could guess why she might not have given a stranger her bank card. Trust like this is so alien to us.
Growing trust from existing relationships is easier than starting afresh. All over the country we see that the most effective collaborations, particularly the cross sector ones, are building on prior connections. This is partly because the communication channels are already open but we keep hearing that it is about more than the mechanics, it is also about trust.
The same point about the value of building out from existing networks comes from the
Red de Cuidados
mutual aid network in Madrid
…. "we are trying to build trust networks identifying buildings where potential beneficiaries may live and asking for the help of one of their neighbours. We need to rely on their own trusted environment,", It has to be the neighbours … who give assistance in the first place. If they cannot, then they can call us," says organiser Victor Jose Cervigon Cervigon.
Social capital surveys in the US found that trust in neighbours rose by 10% and trust in local government by 17% in the months after 9/11. Changes in behaviour were more modest but still striking with 5 to 7 percent increases in giving blood, volunteering and working on local community projects. Robert Putnam says that America turned from being a "me society" to a "we society" in the immediate wake of the attack but then, equally importantly, turned back equally sharply after six months.
A YouGov survey commissioned by the RSA and the Food Foundation last week found that 40% of us feel a stronger sense of local community, 39% are more in touch with friends and family and just 9% want a complete return to normal. All these terms are freighted with ambiguity but the numbers suggest that we may be witnessing a similar swing from 'me' to 'we'.
Will we swing back to a 'me society' in 6 months time or can the shifts be sustained?
Of course the numbers can only provide part of the picture.
Here's a glimpse of how it feels to be balancing trust and risk at the moment
His students are refugees and asylum seekers and he feels like he's their only point of contact as services shut around them and they're quite isolated. So he's checking in with them, on their mental wellbeing, using emojis in chat, sending pizzas on birthdays and he knows this is beyond his usual remit as teacher, and imagines it will change next week when zoom teaching resumes 'because it should'.
Trusting starts with noticing. We are hearing a lot of people talking about discovering the needs of others for the first time and perhaps also discovering something new about themselves.
Nick Sinclair, for example, shared this observation from the
Local Area Coordination Network
:
"One elderly resident in Waltham Forest has started cooking for her neighbour. It transpires that for the last year the neighbour had been surviving only on sandwiches and this has been the first time she's had hot food for a long time. The lady has been touched by that and it has lifted them both incredibly."
We hear of other examples of trust – councils and independent foundations making grants to charities without the usual forms and restriction, statutory services giving discretionary budgets to staff for spending on urgent needs, again without the normal protocols and cross sector collaborations underpinned by relationships rather than contracts. Again all this involves thinking differently about risk but as Giles Gibbons CEO of Good Business told us this week "trust is now the true currency".
I am volunteering with my local football club who decided to shift operations to providing a shopping service and delivering meals to those who are self-isolating . This has been brilliantly light touch, with a bit of ingenuity we have expenses forms, meal ordering forms and a WhatsApp group for support and humour. We are supporting hundreds of people around the town.
But some of us are breaking the (albeit not very clearly stated) rule of not going into people's houses. This is partly about COVID but also because we're not disclosure checked. But one of my guys is profoundly deaf, in a wheelchair and 96 years old… so yes I take his shopping into his kitchen and put it in his cupboards… which is 'bad' but intensely human….
What does this tell us… well at 96 I think he is happier to see a smiling face than anything else… and he and I are willing to take the risk (it helps that I am disclosure checked for other roles)… but I do worry that the one or two inevitable cases of theft (or worse) will be given more weight than the value of a human relationship at a time of deep loneliness and isolation.
And finally, our favourite story of the week
We have a traditional red phone box which has now organically become a place for swapping and dropping things to help each other and maintain social distancing during COVID… So far this week someone left a box of chocolates which were collected by a little girl who was having a rubbish birthday in isolation and someone else left some tea bags and pasta and other essentials in there and others have left books and magazines for anyone who might be struggling to get out or just needed something nice.  One little girl in year 6 from the local school who wasn't in school on the last day before they shut didn't get her school shirt signed by her friends and was so upset.  The shirt is hanging in there with some pens and all her friends are signing it on their daily walk to cheer her up.   
Thanks to this week's contributors
The Observatory is a voluntary collaboration led by the Relationships Project. We are dependent on the eyes and ears of our observers and partner organisations and we need more.
The voices heard this week include Priya Banati, Giles Gibbons, Marnie Freeman, Jessie Robinson, Nick Sinclair and the LAC Network.