In our fifth Observatory Sighting, we explore the theme of participation, exploring instances in which we've seen a shift from control to participation and asking ourselves how this can be sustained.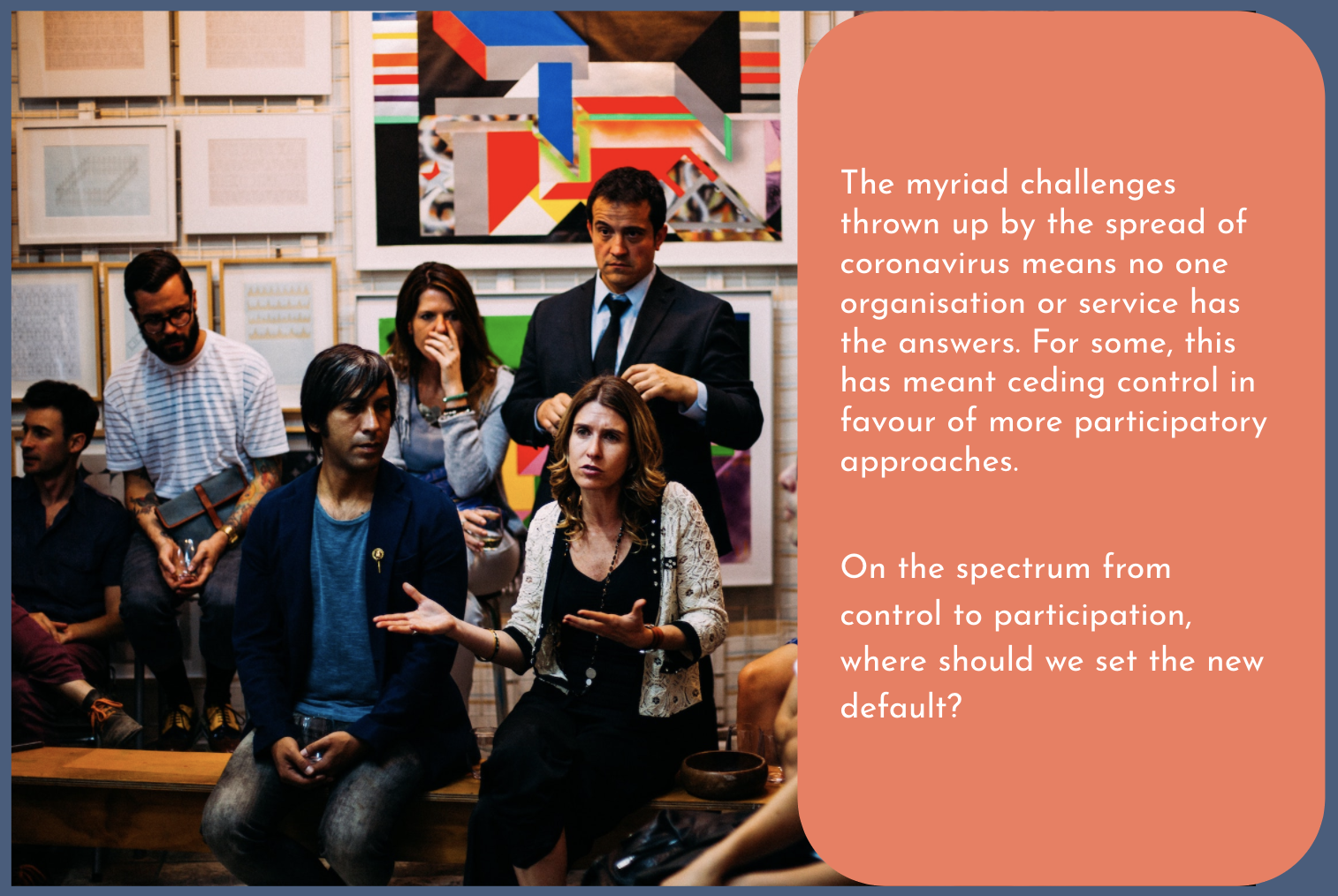 In the Looking to the Future discussion last week we took forward the theme of the third Sighting. We dug into shifting attitudes towards trust and responsibility and explored the idea that when we trust one another more we also take responsibility for their trust in us.
For trust to be both given and received we must let go as well as take on. Within communities and organisations this means shifting from control towards collaboration and participation. Some of these changes in recent weeks have been a necessary response to the emergency and may not be sustained but others might be, resulting in potentially transformative – even radical – new ways of working.
We've worked together differently in the last few weeks. Sometimes we've had money from the council before and we've done things but they've been in charge. This time we've been doing things together and we've also decided things together. The leadership is much more equal. That's the big difference. They know that we know our people better than anyone. If you saw us making plans now I don't think you would know who lived here and who was from the council. As someone said we aren't in the same boat but we are in the same storm. I'd say it's much more like a proper relationship. Unfortunately, it's still not really like that with the health people.
Sometimes the council data is wrong. There's one family here with two kids in a two-bedroom flat. That would be ok, but they've let one bedroom to another family. I don't think they have any other income. The littlest boy is autistic. It must be a terrible strain all cooped up. You can't expect the council to know that, but we do. That's why it's important to work together.
For the statutory authorities there is a measure of risk in working more collaboratively with voluntary sector organisations. Doing so means they are ceding power as well as responsibility, loosening the reins on 'control' and upping the dosage of trust. But there is potential here for long term benefits as well as short term efficiencies.
I think Mutual Aid Groups (MAGs) offer the potential for mutual aid (at scale) to be something that outlives this crisis and in doing so creates better connected more resilient communities long into the future. In Hammersmith and Fulham something extraordinary is happening. The council could easily ignore these groups and deal with requests for support through their own resources. They would then demonstrate their value and unwittingly reinforce the unequal power balance between themselves and their residents – aren't you glad we were able to help you? But in H&F they are taking a different view – their view is that, where possible, the council should be referring requests for support to local MAGs and in doing so they are using this crisis to build connections in their communities that will nurture stronger healthier communities of the future. This has not happened by accident but through remarkable cooperation between the council and local MAGs. Clearly there are risks for the council in relying on volunteers in this way but they have taken the view that the benefits of this approach far outweigh those risks. They are starting from a position of trust and giving responsibility (or the ability to respond) to local people.
Something similar is going on in some of the ways that professional services relate to individuals, particularly the most vulnerable. For many individuals it means playing a bigger part in the decisions and the activities that shape their lives and here again this involves a shift from "doing for" to "doing with" or – put another way – from control to participation.
One Coordinator is supporting a man with no internet access to continue his adult literacy ambitions. In the meantime, they are going to read some comics together on the phone. A few of the people who have poor IT skills or who struggle to make phone calls have risen to the challenge at this time. For instance, a Coordinator encouraged a woman to use her smartphone to apply for a grant and has been awarded £100 of supermarket vouchers. Another young woman with learning disabilities, whose parents did a lot for her but no longer can, recently made a call herself to log a repair which gave her great confidence.
Listening and participation go hand in hand. It's only by opening up the space for individual's needs to be aired that our services, organisations and statutory bodies will make the shift from control to collaboration.
I live in an intentional community: Canon Frome Court, in Hertfordshire – 20 independent households who also share a smallholding. We were ready from the word go. The additional needs of one family who are self-isolating because they have a very vulnerable daughter were met immediately because communication between us is effective. We have also been able to react quickly to emergency needs and make decisions about other things such as rotas for cleaning and using shared areas and play equipment so that children are not without these facilities. The trust which enables us to listen and be patient with differing attitudes to risk have strengthened us rather than created rifts, and this has been possible only because we have learnt to listen respectfully to each other.
Questions we've been asking ourselves
As with so much else that we are learning from the Observatory there are trends emerging from the disruption that help us to be optimistic about a shift from control to participation, but there are also risks and warning signs.
How do we encourage even more collaboration?

What are the risks of shifting the needle from control to participation?

Who gains and who feels threatened?

Are there any instances in which control is in fact preferable over participation?
Looking ahead
Sociologists distinguish between "bonding" – strengthening the connections within broadly homogenous groups and "bridging" – strengthening the connections between groups. The extraordinary surge of hyper local neighbourhood groups online and off, is a big positive from this crisis, but they are mostly about "bonding". Meanwhile we are hearing in some areas that the "bridges" are deteriorating. If, as seems likely, the public health crisis is followed by a deep recession, scapegoating and polarisation could be even more acute.
There's a lot of eastern European guys round here, young guys. They drink outside the houses and play football over the road in quite big groups. They don't bother me normally, but I don't think that's ok. Not now. There's a lot of people round here quite angry about that. I am too.
Share what you've seen
What are you seeing and hearing? In the weeks ahead we will be looking at this more closely and would welcome your observations and insights. Please share what you've seen with david@relationshipsproject.org
Thanks to this week's contributors
The Observatory is a voluntary collaboration led by the Relationships Project. We are dependent on the eyes and ears of our observers and partner organisations and we need more.
The voices heard this week include Nancy Winfield, Giles Piercy, Len Rosen, Nick Sinclair and the LAC Network