In our fourth Observatory Sighting, we discuss the shift from competition to collaboration born from the necessity of a rapid, joined up response to the disruption wraught by Covid-19.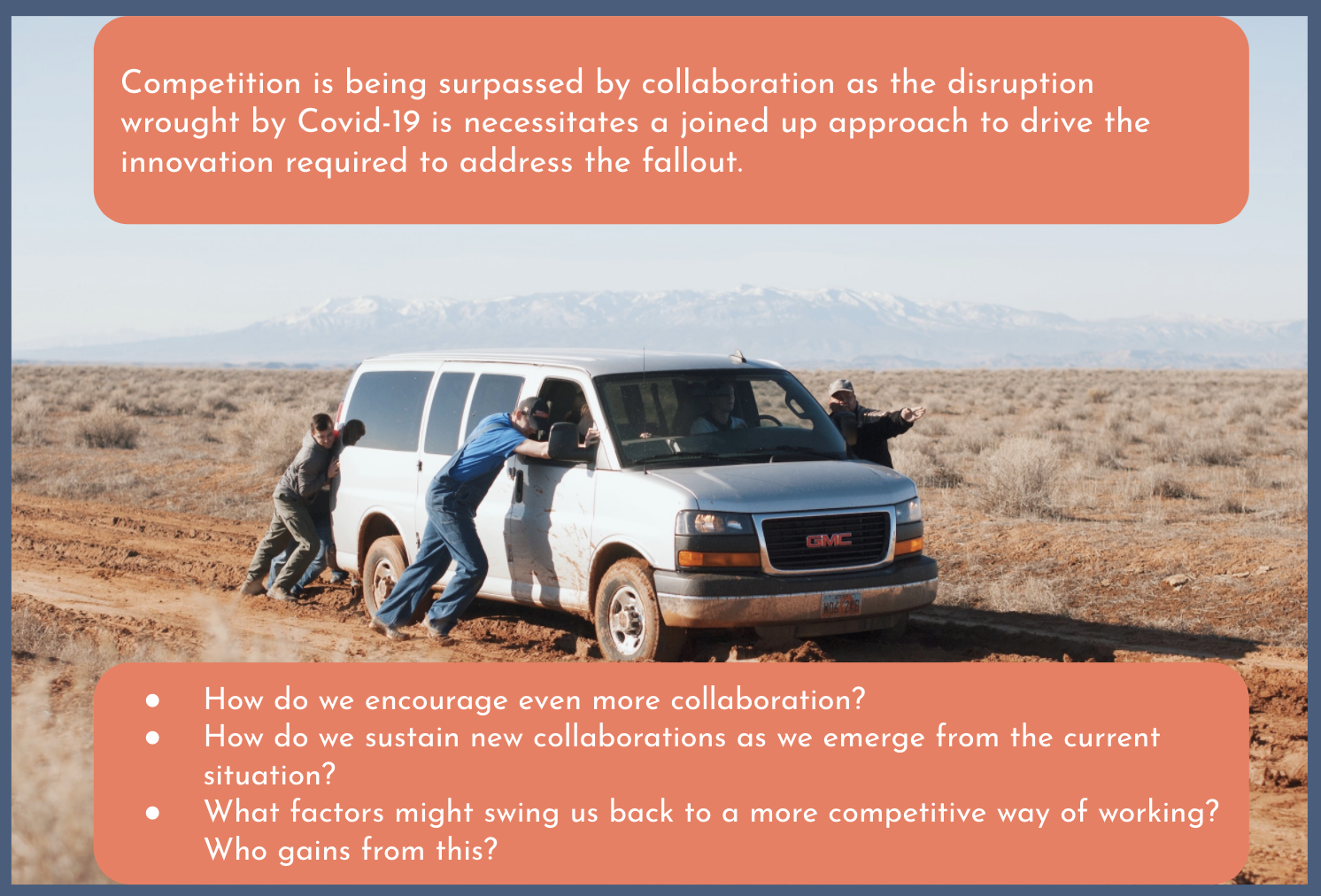 Relationships between organisations are changing as much as relationships between neighbours. The disruption wrought by Covid-19 is necessitating a more joined up approach. No one organisation or authority can 'fix' the problem, but progress is being made through greater collaboration.
At the heart of this shift towards greater collaboration is a willingness to be flexible and to adapt – to look for the gaps and leverage and adapt the resources we have to help plug them.
We have seen great examples of organisations showing willingness to take a collaborative approach and pull together. Move the Masses and York GoodGym are local charities who have shown great ingenuity in mobilising volunteers to get prescriptions to people and offer telephone welfare checks to those who are isolated. KEY and Carecent are two other small local groups we had pre-existing relationships with, who have adapted to continue doing the great work they do, offering our homeless community meals every day of the week and agreeing to be part of a menu of options for getting food parcels to the most vulnerable in the city where other options such as Foodbank, York Financial Assistance Scheme or our food distribution hubs just don't fit. They have shown great problem solving alongside others to ensure people don't go hungry, which has included working with local residents to set up community food banks accessed by hundreds of citizens every week. Strong collaboration has been led at all levels, from community leaders to system leaders, and relationships have deepened to create some amazing innovation.
Two weeks ago the Food banks in Newham were giving out canned and packaged foods but nothing fresh. Why? Because they didn't have the facilities for storage. So the council bought five big fridge freezers and took them round. It was a practical, sensible thing to do but it also illustrates an approach to collaboration that we are seeing in many places – nimble, trusting, responsive and inventive.
To collaborate effectively requires a dose of humility and a shift in mindset away from competition (proving the unique role of our organisation and claiming the value we create) to collaboration (playing the best role we can alongside others and celebrating the progress we collectively generate)
"People seem to be trusting and open in a way that I haven't seen before. That could be for any number of reasons – optimistically I'm hoping it's rooted in a willingness to set aside organisational brand or individual ego during a time of crisis and an acknowledgement that no one on their own has the answers and is going to take a collective effort."
"It has been a frustration to both the local CVS and Council that food banks in Barking have never collaborated – some would say have actually competed! During the last 4 weeks, we have seen them come together to share excess, help with shortfall & collaborate with referrals. A Whatsapp group has now been formed so they can quickly distribute resources between them. No one 'asked' them to – one of the leaders just decided it was 'crazy not to'! The focus became on the need of the residents, not the organisations.
The shift away from competition towards greater collaboration has been smoother and faster where trust already exists. This is something that we explored in our third Sighting and is a theme that appears to reappear time and again. 
There is an environment of collaboration and we see 'trust' building in that – not everywhere but in pockets – those with more baggage from the past are taking longer, understandably. It's an important time to reset how we do things here and trust is core to building stronger relationships – stronger relationships are core to genuine partnership that focuses on what we are seeking to do – rather than worrying about who is doing it."
The Esmee Fairbairn Foundation, one of the UKs largest independent grant makers, made 540 grants last week without any forms to fill in, a remarkable expression of trust in those that they support.
"We didn't want to ask organisations to compete for funding, so we made some difficult decisions …Our offer was so simple, we had several emails in response to check it was not a scam. Grants can be used for core costs, and will be unrestricted unless organisations are not a registered charity. Because we already fund these organisations, we didn't ask for any documentation or for them to make an application. The grants will have no written reporting requirements, though we do want to learn about their effect later on."
Sharing data openly and transparently is fundamental in enabling effective collaboration and a joined up approach. Transparent data helps us to understand what others are doing, where the gaps are, and how we can play our best role.
"Collaboration is key … I hope that by talking about the decisions we've made and the way we've provided support, other funders will find it easier to share their own choices. All our grants will be published on
360Giving
and we recommend using the
COVID-19 tracker,
as we are, to co-ordinate support with other funders. This is just one way we can work together and, from now on, working together needs to become the new normal. We all want to make an impact, and what we do – or don't do – now could make more of a difference than ever before."
This commitment is echoed in the London Community Response, coordinated by London Funders, which has brought funders together to coordinate support for organisations responding to covid. "So far, the fund stands at £16 million and is rising by the day,"
writes
Geraldine Tovey. "Over forty funders (both national and local) have committed to co-fund or align funding.
The shift away from competition towards greater collaboration could be destabilised by those who have a vested interest in maintaining the status quo. We need to come together – to collaborate – in our efforts to sustain greater collaboration longer term and resist the swing back to competitive operating models.
"There are plenty of people saying the current moment is a massive opportunity for change, and I agree. But like the new relationships that are emerging, the spaces where calls for change are emerging are disconnected and vulnerable to the same old vices: lots of little fields with their own gatekeepers patrolling the conversations. Meanwhile those who are determined that change should not happen, or should happen in ways that shore up existing systems, are well organised and well resourced. So this time round, what will sustain a movement to rebuild and reconfigure relationships? If we are seeking to learn in real time from the crisis we are in, how will that learning reach beyond our own networks and communities? For me the overriding question is how to ensure that the narrative that we can simply 'defeat' the virus and return to 'normal' is replaced with an understanding at every level that we have to live differently."
Questions we've been asking ourselves
It seems clear to us that collaboration is preferable to competition, opening the door to a more effective and comprehensive response to the multiple challenges that have been thrown up by the Covid-19 pandemic.
How do we encourage even more collaboration?
How do we sustain new collaborations as we emerge from the current situation?
What factors might swing us back to a more competitive way of working? Who gains from this?
And finally, our favourite story of the week
A very short film, from people making kit for the NHS in Shetland. Stick with it to the final frame.
Thanks to this week's contributors
The Observatory is a voluntary collaboration led by the Relationships Project. We are dependent on the eyes and ears of our observers and partner organisations and we need more.
The voices heard this week include Jane Williams, Iona Lawrence, Radhika Bynon, Julian Dobson,Nancy Winfield, Avril McIntyre, Jennie Cox, Nick Sinclair and the LAC Network.