Following on from last week's Sighting, we continue to take stock of what we've observed over the past few months. In this, our eighth Observatory Sighting, we scratch beneath the surface to reflect on the changing undercurrents which have driven changes in our behaviour.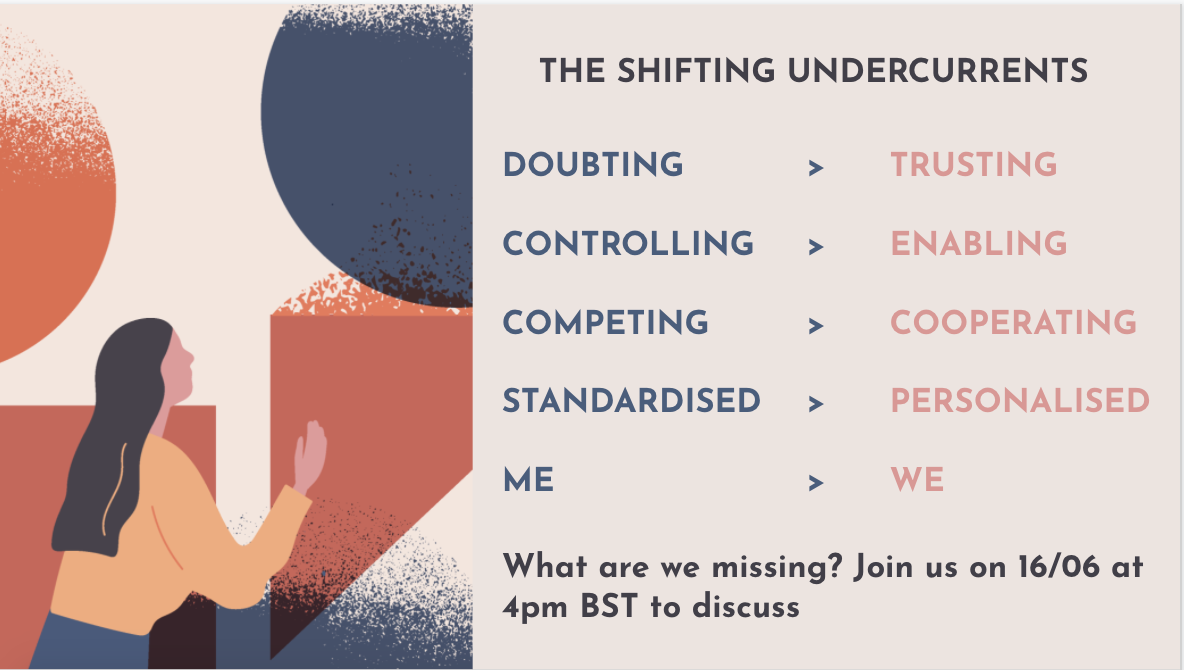 Back on March 31
st
we noted the first figures for mutual aid groups and NHS volunteers and suggested that these official figures represented the "tippiest tip of the iceberg". This week we received the first authoritative
estimates for informal caring
: 10m people, 19% of the adult population, have been volunteering for community activities since the lockdown began. Each individual has been contributing, on average, about 3 hours of their time and 78% "plan to continue helping those in need" after the crisis is over.
Not all of this activity will be sustained but we won't unknow the neighbours that we didn't know before, we won't lose the skills or the networks that we have acquired very quickly and there is no necessary reason why the new connecting tissue – the WhatsApp and Facebook groups and the cross sector collaborations – should be immediately discarded.
If we just attend to the activity on the surface, however, we will reduce our vision of the future to a bunch of projects. We need to also understand the undercurrents – the
shifting  attitudes and behaviours that could prefigure more profound change. 
From doubting to trusting
We have seen this in relationships between people, between people and organisations and between organisations. Whilst trust in government and politicians has fluctuated and then recently gone down, community cohesion and our trust in one another has "never been higher" according to last weeks edition of the
NLGN quarterly leadership  Index.
 Neighbours have been lending money to people they barely know, organisations have been allowing partners and their own staff to take decisions or deploy resources at their own discretion, businesses have extended credit indefinitely. Risks have been recalibrated  towards the presumption that others can be trusted rather than doubted or feared.
I've been getting her a few bits. She can't pay me now but she says that she will pay me back when she can. I don't really know her but I expect she will. She won't be going anywhere, will she
?
From controlling to enabling
Dependencies have been shaken and agency has developed as direct management has become more difficult. We have seen this in relationships between service providers and service users, where previous protective assumptions have been tested and re-evaluated, and also between organisations. Cross-sector collaborations have
valued small, nimble, local arrangements over cumbersome, distant bureaucracies. 
A Coordinator was recently introduced by a Social Prescribing colleague to a lady who didn't speak much English but was due to start learning English (ESOL) through Zoom. The Social Prescriber had concerns that the lady didn't know how to use Zoom but wasn't able to go out. The Coordinator phoned the lady and managed to talk her through how to download Zoom.  However she was still struggling and through further discussion worked out that she might benefit from a bit more practical support. A Coordinator who was in the community at the time knocked on the lady's door and they managed to do a practice Zoom session right there and then using their phones at safe distance. With this practical help she got it quickly! 
However, it turned out from their further conversation between the Coordinator and the lady that she really needed a food parcel. The Coordinator helped arrange this with a local community partner who she knew spoke the same language as the lady. The lady who would deliver the parcel also agreed to support the lady with a further practice session remotely so they could get to know each other more. Later this week the lady will be joining her first ESOL Zoom session, confident in the knowledge she knows how to use it and with a new supportive connection in the community.
From competing to cooperating
No
one organisation, department or individual can "fix" the problems posed by Covid and the lockdown. A joined up response has been an urgent necessity. We have seen this in statutory bodies working with civil society, in cross faith collaborations and in businesses working together on sourcing and delivery. Paradoxically in a time of separation, we have been doing more things together whether it's caring for the most vulnerable, shopping for one another, running businesses or services or clapping on the street.
From standardised to personalised
As activities as diverse as teaching and shopping, worship and domiciliary care have been reimagined. People who had been overlooked for a long time have been noticed again and also new gaps identified. The most successful responses, in schools and shops, faith groups and public services have been highly adaptive and personalised.
She hasn't been able to get to the synagogue for a long time but now people from there have helped her sort out her phone and join some prayers and other groups online. And they've been giving her home cooked food and things. Other people tell me that there are more people involved with the synagogue now than there was before it all happened.
More time and fewer distractions has combined with obvious urgency and need and generated both the  "permission" to behave differently and a tide of goodwill.  New relationships have been made. Existing connections which might have been distant or transactional have become warmer and more human. We have seen a sense of belonging and interdependence eroding, if not replacing, self interest and isolation.
The leaders in the blocks were all older people. Now they can't get out and the younger people have really stepped up… we've tried to match people up, block by block, so these are neighbours helping neighbours. They will keep seeing one another forever. Its going well.
These Undercurrents run across and reinforce one another.
This is an unfinished revolution, in fact a barely begun revolution, but our observations at this stage in the disruption suggest a society that has moved towards relationships as its central operating principle.  
At
best and in aggregate we see the emergence of behaviours which are principle led, rather than rules based, less defensive, more can do, more emotionally responsive, kinder, more personal, more human.
We're saying this isn't just about food. We're not giving our volunteers too many deliveries. We're saying stop and have a natter. 15 minutes makes such a lot of difference. It's the relationship that matters. We're not Amazon delivery.
Importantly these shifts are not universal. In some places the needle has moved in the opposite direction. For every shift there's a shadow, even sometimes in the same locality.  Neighbours, for instance, may be more trusting of one another but also more hostile to "outsiders". And whilst many organisations have been working better with one another, some have encountered tension and suspicion.
We told the school. They said social services should know, so we told them, but the social worker said the school is supposed to do all this now. I don't know about all that. I just know that someone should know what's going on.
I've had a couple of conversations recently with Local Government people, who say they feel 'let down' by some of their established voluntary and community sector organisations who they've been giving the grants to for ages and it's informal groups or new organisations who stepped into the breech. They tell me, "all they did was come back to us and say they needed more money as their income had been hit, and we needed to bail them out. A lot of community leadership came from people we'd never heard of."
What have we missed?
Does this summary of the undercurrents, good and bad, reflect your experience? 
What are we missing? Do please drop us a line and tell us how it looks where you are by
emailing David
or joining us at our next Looking to the Future session on Tuesday 16th June at 4pm BST. 
Thanks to this week's contributors
The Observatory is a voluntary collaboration led by the
Relationships Project
. We are dependent on the eyes and ears of our observers and partner organisations and we need more.
Find out how to get involved.
Voices heard this week include Polly Mann, Jessie Robinson, Tony Clements, Nick Sinclair and the LAC Network.