In this, our seventh Observatory Sighting, we begin to take stock of what we've learnt about the response to the outbreak of coronavirus.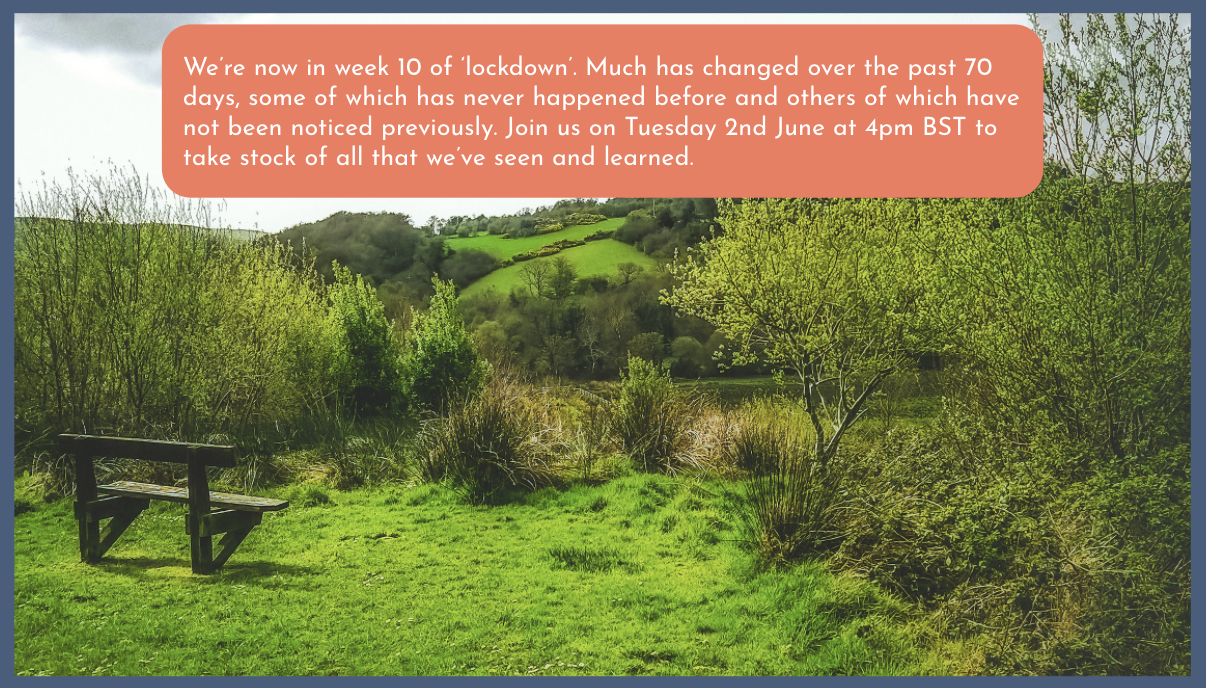 It is now 10 weeks since we published
the blog
anticipating that we were all about to begin 100 days of behaving differently. Since then many things have happened which have never happened before and some things have been noticed which have been overlooked in the past. In consequence new things have been thought and felt. These are the observations and insights that we have been gathering in The Relationships Observatory. We thought it was time to start to bring some of it together.
We need to ask ourselves how much of the old normal was deeply damaging and must be stopped and how much was simply unnecessary and could be replaced by something better. And how much was crucial but criminally undervalued.
Observations about context
First there are Observations about context, most vividly captured in the oft repeated line about being in the same storm but different boats. Indeed, as one east Londoner noted this week "Boats? There are people here without a rubber duck."
Existing inequalities have been laid bare and sometimes exacerbated by the crisis.
As we have noted in

previous work

relational poverty and inequality are inextricably entwined. We can't properly understand changing relationships, and especially differential change, without recognising the context in which these have occurred
The correlations between poverty, poor housing, existing health inequalities and the C19 death rate, reveal gross inequalities which the virus didn't cause but has exploited. Mortality rates in the most deprived areas in England are
twice as high
as in the least deprived.
Insecure housing, employment or caring arrangements may be just about manageable, and consequently invisible, most of the time. The crisis has exposed the scale of these gross fragilities.
The families we work with are used to stress and danger. One mum said to me the other day "Covid is only the third thing on my list of things to worry most about"
Similarly some people have space of their own – adequate homes and their own garden. The mental and physical health of those that do not is dependent on access to public spaces but such space, particularly in poorer communities, is unevenly distributed.
Homes become pressure cookers and relationships suffer, sometimes severely.
Those with existing vulnerabilities, ill health perhaps or an addiction, are dependent on services which have closed or been significantly reduced. This has created another level of stress and difficulty.
Living on £37 a week means I cannot stock up on food, especially because of the restriction on items. I am terrified to leave my house, so I am living so hungry now. I have underlying health conditions too – what will happen if I get the virus? I really need to get some support. I need to speak to my doctor and therapist but everyone is closed. I feel so alone.
All of the above has come together to shape a context in which lockdown has been much harder for some people than it has for others.
Relationships have been stretched to breaking point. Refuge, the domestic violence charity for instance, have reported a

49% increase

in calls to their helpline.
Observations about technology
Technology is often seen as the "enemy of warmth" and the root cause of our tendency to transact rather than connect, but over recent weeks we've learnt that warm relationships can be kept alive, and even built, by technology.
Some people have been able to shop, learn, socialise, worship and work throughout the lockdown. Those who can, have learnt fast, adapted quickly, and coped best. According to the Digital Index, however,
22% do
not have the digital skills
needed for everyday life in the UK
They are
missing out
on everything. As one Observatory contributor said "the digital divide isn't a divide in our community, it's a chasm".
My accommodation doesn't have Wi-Fi. I always have to go to town, go to charities or something. Now there is nothing. We can't afford to top up our phones, and we also don't have bank cards. What are we supposed to do? I want to know what to do, I want to be able to talk to people but I can't.
Observations about relational infrastructure
Re-neighbouring has been one of the most remarkable features of the crisis.
40% of us now feel
a stronger sense of community. 2m have joined local support groups on Facebook alone and
4300 mutual aid groups
are now connecting more than 3m people. And we suspect that this may be just the tip of the iceberg. A huge amount of informal caring and support is going on beneath the radar of the data collectors.
I've never really been a joiner but I popped a note through the doors round the block. I'm shopping for 3 people now. It isn't much but it's something.
It is
clear from contributions to the Observatory that some local areas have responded to the social need in their communities much faster and more effectively than others, that the most comprehensive and successful social responses have been highly collaborative and that the best collaborations have emerged in areas where there were preexisting structures and relationships. In others it has been difficult to drive the train whilst building the engine.
I think we've done OK here. We started quickly. We knew people and we had good lists by the end of week one. Everybody has worked pretty well together but we were lucky. I don't see how anybody could do something like this properly if they didn't have good relationships already
The park looked like a pop festival yesterday. It's not fair on us older people. I wanted to go to shop but I was too afraid
What have we missed?
This is what we have seen on the surface in recent weeks. Do our observations reflect your experience? What are we missing? Do please drop us a line and tell us how it looks where you are by
emailing David
or joining us at our next Looking to the Future session on Tuesday 2nd June at 4pm BST.
Next week we will scratch below the surface and talk about the Undercurrents – the shifts in attitudes and behaviour that may prove to be even more important in the long term.
Thanks to this week's contributors
The Observatory is a voluntary collaboration led by the
Relationships Project
. We are dependent on the eyes and ears of our observers and partner organisations and we need more.
Find out how to get involved.
The voices heard this week include Julian Dobson, Jane Williams, Avril McIntyre and friends of Refugee Action supported by Laura Naude.