Citizens Rising
Listening to and learning from young people through The Lookout 
In this report we review the learning from The Lookout: a dedicated space for children and young people to make sense of the effect that the pandemic has had on their relationships. 
I saw that what you do will affect others, like if you sneeze it will affect others. I saw that some people were getting really impatient during lockdown but others were being really patient
– Lookout Contributor
Many more young people than usual have grappled with formative experiences of uncertainty, isolation and death. Those experiences have been shaped by the relationships that they did – or didn't – have to support them. They have a burgeoning sense of citizenship, and urgent needs. We heard three things in particular that young people need from adult society:
The time and space to reconnect with important people in their lives

A rounded package of support which goes beyond catching up on missed curriculum

A more equal society which works better, for everyone
Shifting relationships
Drawing inspiration from the Circles of Support model, we often think about our personal relationships as a series of relationships rings. The stories and responses we heard from young people revealed a complex picture of shifting relationships. As for all of us, young people's wider network of relationships shrank dramatically to the most intimate family circles. But for many young people, their relationship with wider civic life was simultaneously thrust into the foreground.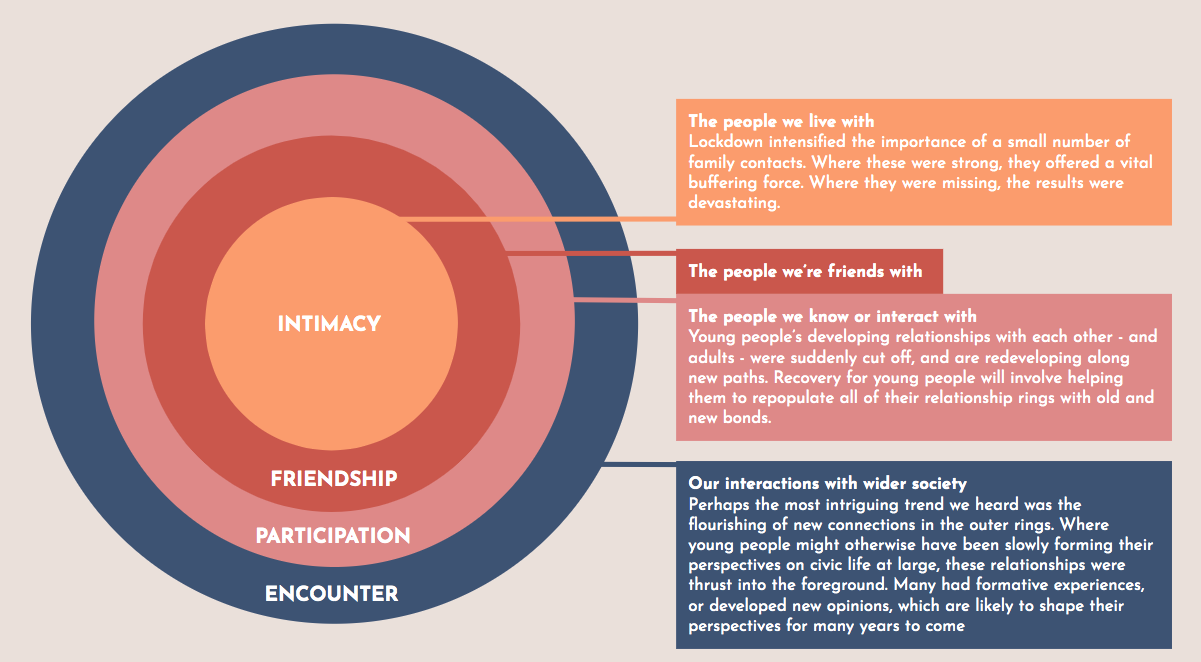 Responses from the Chief Listeners
We assembled a panel of 'Chief Listeners': influential adults who are interested in acting on the needs of young people. Each of the Chief Listeners has read the report and offer their responses to the young people who fed in:  
The contributions of the young people (and adults) in the Lookout, moved me, inspired me, and gave me a feeling of hope. Also, at the same time, deep sadness […] Hope comes from the evident resilience, an appreciation of the value of connections and for some, seeing social issues in a new light and realising that they can make a difference in change for the better. 
I was particularly struck by how many of you were getting interested and involved in making change in society. This is so great to see, and we definitely need to support you to be leaders in your communities, in tackling social problems, and in politics. Please keep up the great work on communicating what young people need, and being leaders yourselves in making change.
Children and young people have done extraordinary things for us adults over the last few years. The sacrifices they have made – and the worries they have shouldered – must never be forgotten and we all have a lot of work to do to show them the same love and interest that they have gifted to their families and communities. I have learnt so much listening to their stories and advice and promise everyone at Save the Children will work hard to build a world that's worthy of what children have done.
To all the young people who contributed to this valuable report – thank you. We have heard what you need to recover and rebuild from your experiences of the pandemic and are working hard to respond. A relationship with a youth worker is a key part of the 'middle rings' of the relationship circle, and accessing youth work provides the opportunity to build new relationships with peers. The youth sector has suffered through the pandemic and vital services for young people were lost. We are rebuilding the youth sector to ensure that young people can reconnect, or connect for the first time with youth workers to access the support, experiences and opportunities that they need to thrive. 
It was a pleasure to read your views and experiences of the covid 19 pandemic […] I shall have the two things in my mind during my work to prevent young people becoming involved in violence and ensuring that safe outdoor spaces are accessible to, and useful for, as many different types of people as possible. Thank you for your openness and honesty.
The covid crisis demanded an emergency response, relying on the resilience of large swathes of the nation, including children and young people […] While marginalised during the pandemic, the needs of young people must be front and centre of the recovery. Their skills and resilience are crucial assets as we rebuild our society together.
Nelson Mandela once said 'There can be no keener revelation of a society's soul than the way in which it treats its children.' Listening to those that took part in The Lookout suggests we all – family, local services and government – need to think carefully about the lived experiences of our children and young people during the pandemic. They clearly tell us some of what they have gained and some of the experiences they have lost from the restrictions to their day to day relationships. Policymakers, particularly, need to ensure we don't let schooling get in the way of education; and that the local services for children, families and young people are themselves helped to recover quickly.
I'm so grateful to the young people who contributed to The Lookout for being so honest and thoughtful. I can see that many of you have had tough experiences, but also stepped up to help your families and communities. We absolutely must make sure that you get the support you need for education, for community activities, for mental health, and for rebuilding relationships with all the wide mix of people you need in your lives. We must also make sure that we use your energy and ideas for building a better world.